February 27, 2009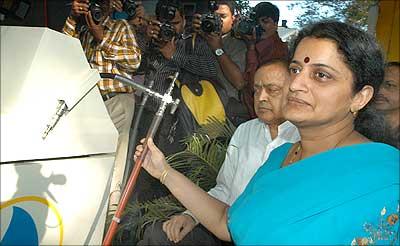 After the Mumbai terror attacks [Images], the Ministry of Petroleum and Natural Gas has devised a scheme for the rehabilitation of families of martyrs.
The scheme provides for allotment of Retail Outlet Dealerships/LPG Distributorship/CNG filling stations to dependants of government security personnel who lost their lives during the attack.
Dependants of 16 police personnel and two military personnel will be allotted outlets/dealerships.
On February 27, 2009, the first CNG filling station was formally handed over to Hemant Karkare's [Images] wife Kavita.
Union Minister for Petroleum and Natural Gas Murli Deora said, "It is government's duty to stand by families of all those who sacrifice their lives for the cause of motherland. He formally handed over the CNG filling station to Karkare.
Expressing gratitude, she said, "My children have lost their father, which is irrevocable. But I don't think that they will ever want for anything in their lives, because so many people are praying for them across the nation."
She also pleaded with society and the nation to fight terrorism, so that other women wouldn't be widowed in the way she has been.
Text: Insiyah Vahanvatty; photograph: Arun Patil
Image: Mrs Karkare and Murli Deora.